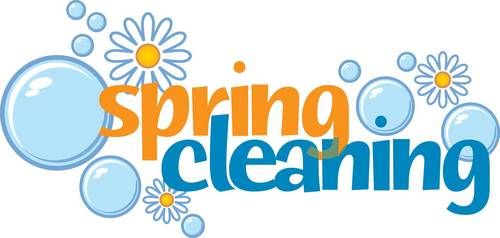 Happy First Day of Spring!
Spring is here already… Almost 4 months into the year, I surely expected to do more projects and blogging than I have. This year so far has involved way more television then I'd like to admit, working (which is a good thing) and trying to make things fit.
A few years back my beloved Aunt Jane passed away, she was a collector of ANY and EVERYTHIHNG… recently I've made a few trips over to her house to help my cousin sort through papers and stuff. It's been fun, interesting and emotional… she's the last from her generation, so it's like putting closure to that generation.
Being the hoarder that I am I brought home a good amount of her treasures, but now I must make room for them by getting rid of some of the stuff I have here already. Time for OPERATION SPRING CLEAN.
Not only am I Spring Cleaning… it's going to be Spring Decluttering and Spring Redecorating!
It's going to take several weeks… possibly months to get this project done, but what better time to start then right now! I don't have a concrete plan yet… but an idea of where I'm going to start.
Ideally, I'd like to go through the whole apartment and get rid of anything I'm not using, haven't put on display in a long while and don't LOVE. I think I can empty out half my closets by following this rule. I have great stuff but I just don't love it all. I need to set it free and let other's get their hands on it… (be ready for eBay and Etsy links coming soon).
Today was Day 1 of my project, I went through and tidied up… I also threw out my current dinning room set. Tomorrow I'd like start some boxes… SAVE & SELL… the things I don't think I can sell are going to the trash. I sorted through a box today and got rid of some things – which if I move fast isn't hard to do. The mistake I almost made was tossing out what I think might be silver candle holders. I had received them a while ago for free from a junkman I use to know… they're pretty tarnished. Something told me not to toss them, instead to try to clean them. I ran a bit of toothpaste over a corner and I found some shiny! Then I noticed the label underneath that was labeled by a silver company. I think they're worth holding on to for now.
I feel almost like my apartment's a slide puzzle right now. I have to maneuver around until I can get everything in it's right spot. Right now my dinning room is free with open space, so I'll have to move some things from my 2nd bedroom into there in order to get pictures of the desk and bed I'm getting rid of so I can put them online for sale. If they don't sell in a couple of weeks I'm dumping them out. I have some decluttering in the 2nd bedroom to do in order to get the two dressers from my bedroom in, once those are in I'll moved the pending items in my living room into my bedroom.
The big items I brought from my Aunt Jane's house were her dinning room table/chairs and what I think was my great grandmother's dresser and vanity. I'd like to redo my bedroom in a mixed vintage style with touches of modern.
Another big part of this project will be converting my 2nd bedroom (which has become my storage) into my office/workshop. I'm getting rid of the bed in there and moving my dressers in to set my dollhouses on.
Yes, I did say dollhouses… but that's for another post…
Stay tuned, this Spring's focus will be all about out with the old and in with the well… old.
Do you have any Spring Cleaning Plans?