With all the inauguration talk usually on January 20th… this national food holiday is usually sadly overlooked. January 20th isn't only the day when we welcome a new POTUS into office, but also it's a day all Cheese Lover's UNITE!
So in honor of this special day I'm tried a new-to-me type of cheese – which I'll tell you about in a bit… but first here's some fun Cheese Facts for all you Cheesy Lover's out there…
Did you know the average American consumes about 31 pounds of cheese each year?
There are over 900 types of cheese…. How many can you name? Me?… Let's see… there is Ricotta, Feta, Fontina, Gouda, Cheddar, Crème, Blue, Limburger, Brie… and…. that's all I got for you!
No one knows exactly where cheese came from… archaeologist believe it dates back as far a 6000 BC.
Not only are there 900 types… there are more than 2000 varieties of cheese worldwide… mozzarella is the world's favorite and most eaten.
Pizza Hut is the largest cheese using fast food company… using approximately 300 million pounds of cheese annually!
Cheese production around the world is more than worldwide production of coffee, tobacco, tea and cocoa beans.
The first cheese factory was established in Switzerland in 1815. But the first successful mass production started in 1851 here in the United States.
Cheese can be made by using a variety of milks including cow, buffalo, goat, horse and even camel!
It takes about 10 pounds of milk to make 1 pound of cheese! If it wasn't for cheese there would be a lot of wasted milk.
Cheese is kept for a period of time before its ready to eat. Some varieties of cheese, blue cheese, gorgonzola, and brie are exposed to mold which helps them age properly.
Some varieties of cheese like mozzarella, cheddar, Swiss and American help prevent tooth decay. It promotes the flow of saliva which leads to elimination of sugar and acids from the mouth.
Another benefit associated with cheese is that it helps protect tooth enamel and has an antibacterial effect. If consumed in moderate quantities it has various health benefits.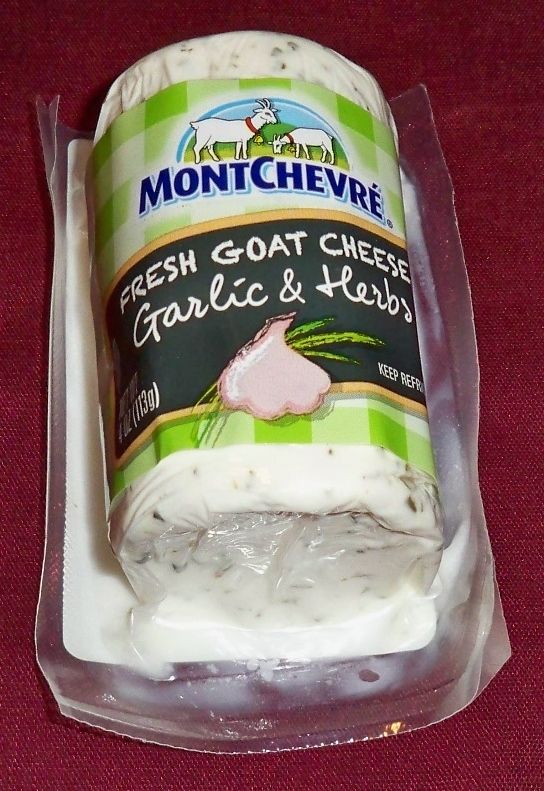 In effort to unite with the rest of the world's cheese lovers I tried. Goat Cheese – Garlic & Herbs… it was pretty good. I don't know I'd buy it again… I like feta cheese because it's tangy… but this one was a bit too tart for my taste buds, but I did like the strong taste of garlic an herbs.
What's your favorite kind of cheese?